USE OUR NEW, ONLINE RESERVATION SYSTEM! CLICK BELOW TO GET STARTED.
Make your reservation NOW! If you are having trouble with online booking, call 304 765 2120
Double Deck – Double Slide Boats
Sutton Lake Marinas most popular choice!  Our double slide boats are a roomy 30′ long and 10′ wide and feature two fully operational water slides on a large upper deck, plus dive platform, Bluetooth stereo with four speakers, and fully enclosed bathroom.  We have one boat with a grill that is not pet friendly plus one boat without a grill that is pet-friendly.  There is slightly more seating on the boat without the grill, but both boats have a maximum occupancy of 18 people.  It's like having your very own floating water park!  Can you imagine the fun that you can have on these boats.
Premium Pontoons
Our premium pontoons are nice roomy single level pontoon boats. Some feature a porta-potty (upon request – $25) and all feature stereos bimini tops, and swim ladders.  To keep our premium boats looking great, only three of them are pet-friendly.  Maximum occupancy of 9-12 people with horsepower from 90 hp – 115 hp, depending upon the boat selected.
Standard Pontoons
Affordable boats for smaller groups.  Our standard pontoons are nicely appointed reliable dependable boats…just a bit smaller than our premium pontoons.  Some are pet friendly and one has a porta-potty available (upon request – $25).  All feature stereos, bimini tops, and swim ladders.  Maximum occupancy of 5-8 people, with horsepower from 25 hp – 60 hp, depending upon boat selected.
Sutton Lake Marina strives to offer quality rentals, excellent customer service, and affordable rates to make for an overall outstanding rental experience.  With a total of 18 boats to choose from, we're sure to have the perfect boat for you!  Our boats vary in size, performance, maximum occupancy, amenities, and price.  All of our boats are equipped with swim ladders, bimini tops and fuel efficient 4-stroke engines, but other amenities vary.  (See specific boats for details or give us a call and let us know what you are looking for in a rental.)   Boats are available for full-day (8-hour) or half-day (4-hour) rentals between the hours of 9:00 a.m. – 7:00 p.m.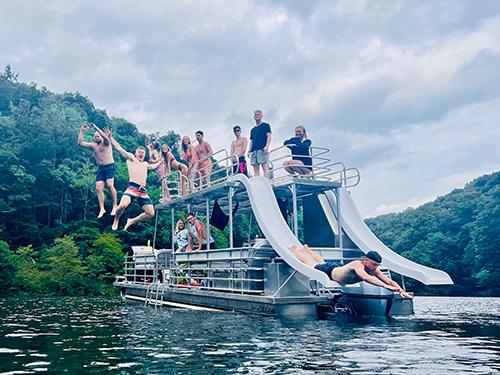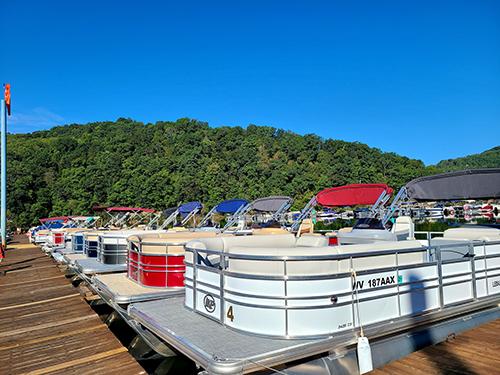 Reduced Mid-week Rates!
(Monday – Thursday) all summer long! Save up to $50/day
Rental Discounts (Max of one discount/vessel)
Veterans, Military, Braxton County Residents: $25 discount on pontoon, jet ski, and Craig Cat rentals.
Multi-Rental Discount (2nd Rental on the same day): Have a large group?  Receive $25 off a second rental.
Choose another pontoon boat, a jet ski, or a Craig Cat.
Holiday Rates
Weekend rates apply for the following Holidays:
Memorial Day
Independence Day (July 4th)
Labor Day
2023 Pontoon Full Day Rental Rates
9am – 5pm, 10am – 6pm, or 11am – 7pm
TYPE OF BOAT
Double Side
Premium
Standard
Weekend(Fri/Sat/Sun)
$565
$395
$345
Midweek(Mon-Thurs)
$515
$345
$295
Reservations Are Suggested To Ensure Availability. Call 304 644 7051.